10 September 2008: The New Suspension
Friday, 8/15 - Hanger
Paul put me in the new socket. This system is more like the first socket. The rigid fiberglass outer shell is a little thicker and heavier than the carbon fibber original. The inner shell thinner, softer and more pliable. The fit feels a little strange (as expected), just need to wear it for few days to see how goes.
Weekend, 8/16-17/08 - Hess Lake
The neighbors on both sides (Dave, Maria and Edna) and I are engaged in a joint sea wall project that is showing good progress. John (
microbial Masters
) started mold abatement and selected Dean (Bouwcamp Builders) to replace the roof. Getting the place ready for entertaining grandchildren.
Monday, 8/18/08 - Overload and a Hike
Up at 6:00 for an 8:00am workout with Adam—did the leg press twice getting ready for Maine.
Gene S, Bonnie P, Angie, 9 yr old Alexis and I stomped around "Old Man Cave" for about three hours. The gorge is about 200 feet deep. The trails were very challenging—a lot of stair steps and steep ups and downs. One really dicey section of the trail sloped down to the right (interferes with left prosthetic free swing) toward a 5 foot drop to a dry river bed complicated by massive tangles of exposed tree roots and wet slippery mud. (I forgot my camera but Angie took some pictures and promised send them.)
Tuesday, 8/19/08 - PT Drake Center
Haven't seen Emily for a month. Examined the latest suspension changes, marched the isles and the "gait rite" runway to checked my gait (surprisingly good) then reviewed my hiking plans for Maine. She said I'm doing great and set our next session for mid October.
Wednesday, 8/20/08 - Hanger
Paul made some subtle socket changes - pushed out some hot spots, made some miner mounting adjustments. He also recommended adding a silicone putty pack to the bottom of stump for a little more end load The new socket is working a feeling good. We also tuned the C-leg's dynamic settings with my back-pack (loaded with a 40lb bag of rock salt) and hiking sticks.
8/21,27 & 9/3 - Overload
Adam and Skyler continue their focus on fitness and getting me ready for the Maine mountain hiking exercise.
Sunday, 9/7/08 - Bike trail
Did a quick 5 miles with Bonnie just to get some miles in before the Maine trip. I have not been pushing big mileage lately because that seems to precipitate stump reduction. The focus has been on getting the stump healthy (blister free) and a stable secure fit with the socket. Made a set of "mikie sticks" (a functional cross between hiking poles and forearm crutches). The hiking sticks allow longer stride, higher cruising speed and upper body assist for the lead (natural) leg on the long up-hills.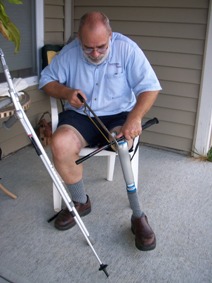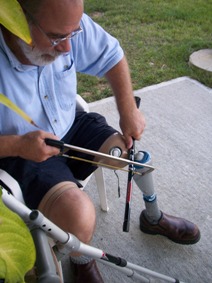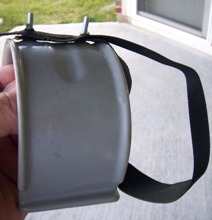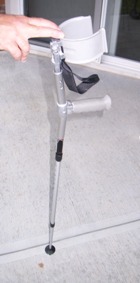 Comments