11 March 2008: Ending on a High Note!
I've been an AKA for a year now and to be perfectly honest I don't recommend it. That said, thing aren't all that bad, I even have a little fun with it sometimes. I am thinking I might change my trail name to "Also Known As" for the 2009 hike but I really like "Oxymoron" too. What to do?
Wednesday (5th) 8:00am - Pat armed with C-leg software, joined Emily and me at PT for a leg tune-up. As I began to pick up speed and gait length, the C-leg would swing forward to knee lock way before my heel would touch ground (knee lock should happen slightly after heel strike). They walked up and down the halls with me to get a handle on the problem. The cord that connects Pat's computer to the C-leg is only about 8ft long and the C-leg micro-processor has six variables that interact dynamically. The best way to accomplish a true dynamic tune-up is on a tread mill. We started at a brisk but comfortable 2 mph. At 2.7 mph things started to get a little dicey. Pat adjusted some parameters and Emily bumped up the speed. 2.8, 2.9, adjust, bump, 3.0, 3.1, adjust, bump, 3.2, take a break, drink some water, crank it up, 3.3, adjust, bump, 3.4, and at 3.5 mph things got a little dicey again. This time the leg was spot on, I was becoming exhausted, so we shut it down. That exercise took about 25 minutes. We took one more walk down the hall and back just to verify the sets were still as good off the tread mill and the session was about over. Normally (if there is such a thing in my world) at the end of a session, I would remove the leg and Emily would examine my stump for signs of skin breakdown. This routine is necessary because I have not developed surface sensitivity on the graft skin yet. We were out of time and my leg felt really good, so we skipped the exam this time.
Went to work, got home about 6:00, popped the leg off and found a pretty good size blister just below the pelvic bone structure that forms the hip socket. I'm not too excited, expected this to happen eventually. This was nothing even close to the blisters Maine Dish had at Neal's Gap.
Friday (7th, blizzard day) - Went to work Friday and opted to give the stump the day off. The weather was really bad and the parking lot was super slick. I got about two steps from the car and the crutches slid out and down I went. Again, once I realized I couldn't save it, the "controlled descent mode" kicked in and ended with a soft sloppy sprawl in the slush. Sharon (our receptionist)saw it happen and called Travis (plant manager). Travis came out immediately to lend a hand. The only thing injured was my pride - which has been so beat-up it's about as numb as my stump. Grabbed the trusty lap top and lesson in humility and headed home.
Due to the bad weather, Pat (Hanger) called me in early to recast my stump to make the new liner which is step one in the new socket process. He said my blister was just that and did not qualify as a more serious skin breakdown condition. He informed me that he was leaving Hanger at end of next week. Today just was not a good news day. We civilians are losing another good practitioner to the VA. Can't bitch, the vets really need all the good people they can get. Good luck Pat, you and your wealth of experience will be missed. I am sure Paul (he was in the test socket pictures) will pick-up the ball.
Weather was serious (level 3 alert) crap all weekend, laid low and had a two day pajama party with Bonnie. Just exactly what the blisters (plural it turned out) needed.
The Monday after the time change (10th) - March 12th of 2007, AKA day, was also a Monday that followed the time change. My one year anniversary PT session at a very early 8:00am went extremely well. We walked with an interesting little twist. Emily got her hands on a metronome. The objective was to have the heel of each foot touch down on every other tic. Tic, tic, tic, down the hall, down the steps, tic, tic, out side, down ramps, up ramps, tic, tic, back to the PT gym, over the foam pad between the parallel bars (look mom no hands), tic, tic, onto the tread mill at 2.5 mph, tic, tic... Even did the "gait analyzer mate" in time with the tics. We didn't want to press our luck with blisters too much. Did the stump exam and finished up early.
which is the C-leg?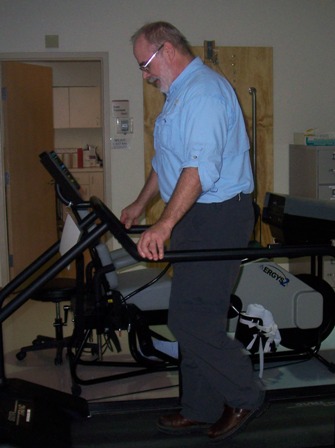 C-leg in swing phase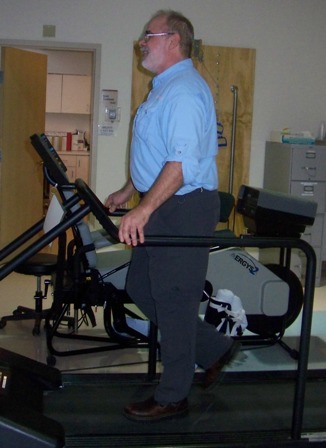 C-leg in stance phase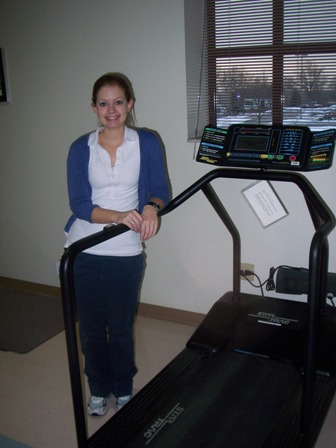 Emily setting up the tread mill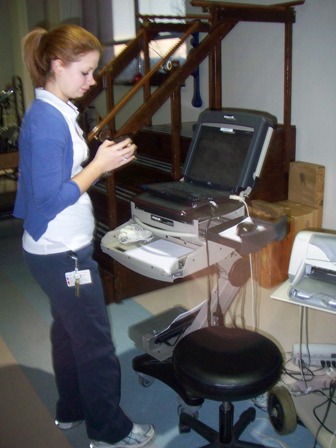 Emily setting up the gait analyzer
I was declared a graduate and ready start working more on my own. My therapy sessions are back to once a week immediately and maybe even every other week in April. Future sessions will deal with issues that arise with the new socket and the edges of the C-leg performance envelope that I'm sure to bump into frequently.
Tuesday 11th - Was invited to participate in a PR/educational film to introduce Drake Center's outpatient services. As Emily introduced me to individual members of the film crew and PR staff the reaction was almost the same with everyone. Is this "Appalachian Trail Mike"? The lady that conducted the filmed interview asked "why are you in therapy?". Emily chimed right in, "AKA, missing leg", then a slightly embarrassed, "Oh, I didn't know", and the off camera pre-interview commenced. I also removed the zip-off pant leg to make the C-leg visible and showed off on the tread mill at 3 mph for a few minutes. At the end of filming, Emily (beaming with pride) said she thought that was a truly fitting way to wrap-up your first year as an AKA.
All things considered not a bad "first year". My Heart Felt Thanks to all—family, friends, co-workers, medical teams, physical fitness trainers, insurance coordinators, bloggers, etc. Wish I could thank every person by name that has made an impact on my recovery this past year, but there are just so many of you.
Comments