02 March 2008: Forgive me, I have zinned
Forgive me blog followers, for I have zinned. My last blog entry was over two months ago! It's not for the lack of activity this time. Quite the opposite. With Overload twice a week (at about 5 hours per/with travel), PT three day a week (dropped to two mid Feb at 3 hrs per/with travel), a heavier than usual project load at work (50+ hr a week), bowling, skiing and last but not least, and "ALL THE WONDERFUL" hoopla associated with becoming a grandpa (Wa-hoo!), this old boy has been busy. (How's that for a run-on sentence.) So, when given a choice, make a blog entry or kick back and enjoy a glass of wine I obviously chose the latter.
It's not all about the leg - one of my design projects, for our plant in Mexico,(a blank sheet of paper in Sept.) started production in mid Jan.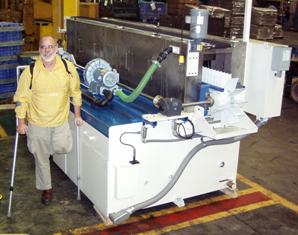 Automated parts washer ready to ship.
Overall, progress with the C-leg has been very good. The most significant issue is how fast the stump musculature is shrinking and changing shape. After replacing the urethane stump liner to make it fit tighter, Pat and Paul (Hanger prosthetists) have cut, heated, bent, shimmed, strapped and riveted the hard shell socket to keep it comfortable and secure. But the custom fit is pretty much gone and a C-9 (workman's comp request for funds) is in the works to re-cast my stump and build a new custom fit socket with liner for a stump that has lost more than an inch of girth (again, way before it was exspected).
In spite of fit issues, I have progressed to where I can put my leg on when I get out of bed and take it of when go back to bed (sometimes I choose to wear it less just to be comfortable).
Took a three day engineering trip to our Grenada, Mississippi plant where Rodney tested the "no work restrictions" (another major 1st year goal) and poured it on. I had the C-leg on, no crutches, no hiking poles, for over 16 hrs a day with loads of miles over and around lots of obstacles (did result in a couple of small blisters at the bottom of the stump—no big deal, already healed).
For those of you who are gluttons for punishment, click "read more"for pictures and comments.
The Deerfield Mfg Engineering Team: Matt, Pat, Mike, Roger, me, Rodney (the Skipper), Dave, Phil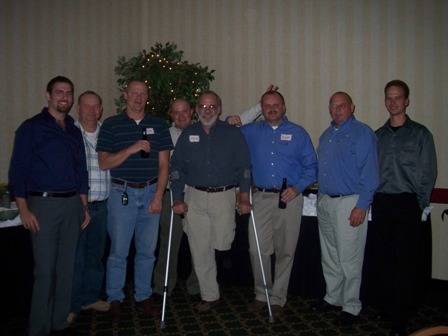 The only 1st year goal I didn,t achieve was to dance with Bonnie at the Deerfield xmas party. Got my leg two weeks later. We still had a good time.
Index conveyor sub-assembly prior to installation.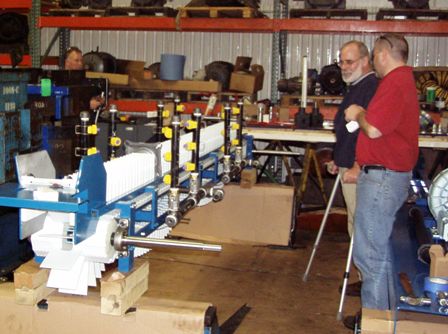 Assembled wash ready to be wired.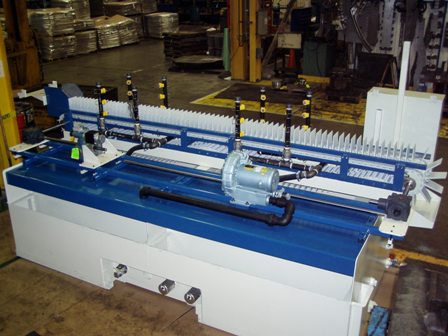 Pat (Hanger Prosthetist) measuring stump to quantify shrinkage before replacing urithane liner. (Emily took the picture)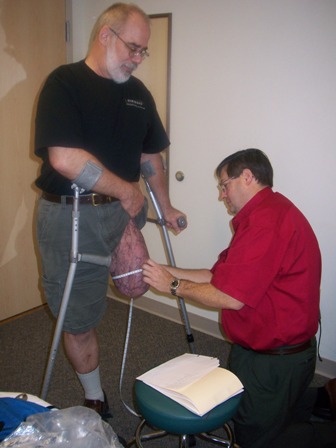 Overload "leg press" at 380 lbs with the C-leg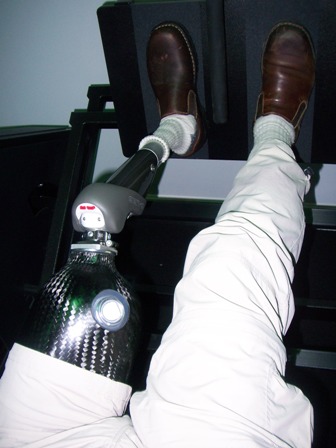 Overload "pull down" at 370 lbs.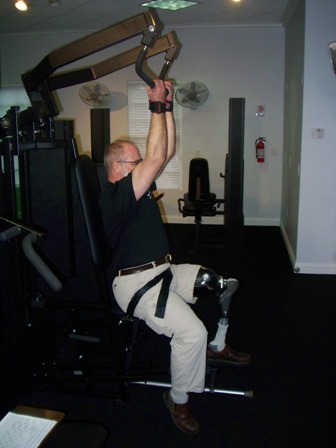 Overload "overhead lift" at 260 lbs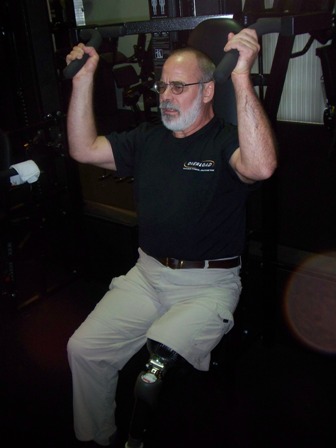 Overload "back extension" at 150 lbs
Quite the contraption to get in and out of.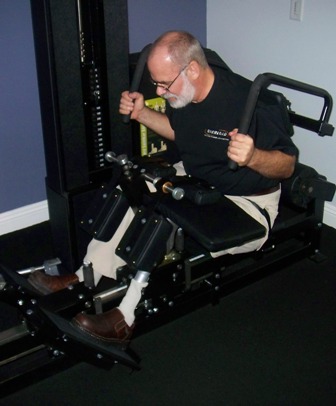 Overload "leg press" with C-leg only at 100 lbs
The focus on stump strength has already made a huge difference in the early transition from basic learning how to walk to the more challenging speed and distance training.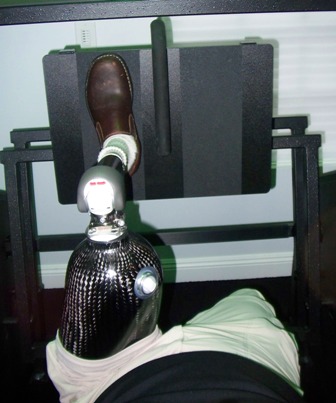 Overload "adductor press" at 90 lbs
The C-leg fell off a couple of times on this one.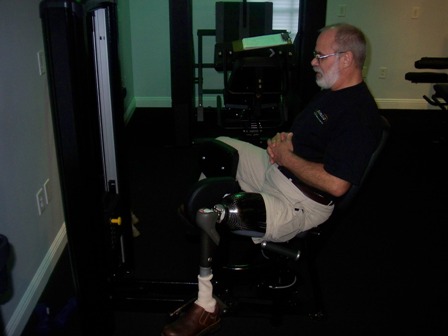 Overload "abductor press" at 90 lbs
This strengthening has also played a crucial role in putting full weight on the prosthetic limb with confidence.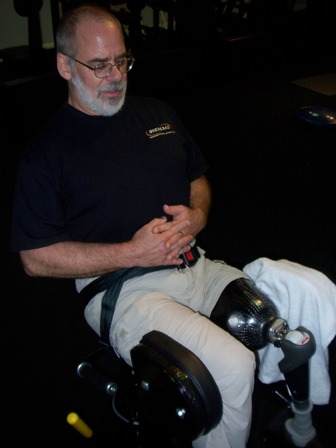 The Overload "rack" (really fast results)
Strength and flexability like poetry and music.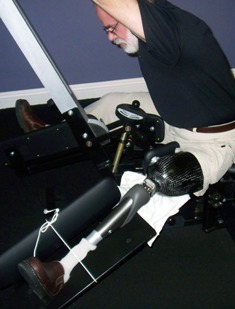 Comments