23 April 2008: 8 mile is going to be tough
Monday 4/21—PT Took a long walk thru the halls and did a high and low speed gate analysis. They moved the computerized carpet that digitizes each step so it has a long lead in and exit. Emily said they moved it just for me. Does she know how to push my motivation buttons or what? We spent a good deal of time on my year two goals (clic "older" the two previous entries). She's going give me a hand with the Otto Bock/C-Leg chalenges.
Wednesday 4/23 Finished a 6 miles walk at 2:45pm. (clic "read more"for stump issues and goal data) I had every intention of completing the 23 laps required to achieve the 8 miles goal but hit the wall well short. This time I could not have gone another lap on a bet, but did manage to average 2.9 mph. I hobbled into the house after the 17th lap, grabbed a small bite to eat, took a quick shower (had some difficulty dragging my tired butt in and out), flopped onto the bed and slept for four hours. I was toast. No bleeding from the blister, but the small graft tear in front bled a little. I now have a new respect for the 8 mile goal.
Finding a way to add filler material to compensate for the accelerated stump shinkage, deal with a very high level of activity, and check the blisters caused by both has been fairly difficult. This is what worked today.
Cut the closed end from the oldest compression garmet. The garmet does a good job protecting the upper rim blister but causes friction blisters at the bottom.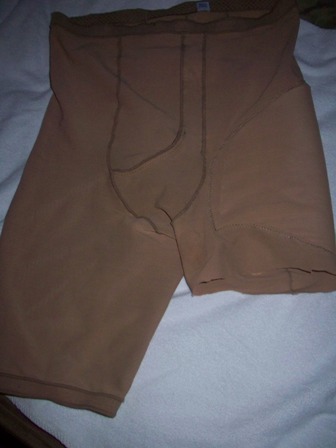 Apply a layer of a tubular ace bandage, "tube-a-grip".(note how far it hangs down)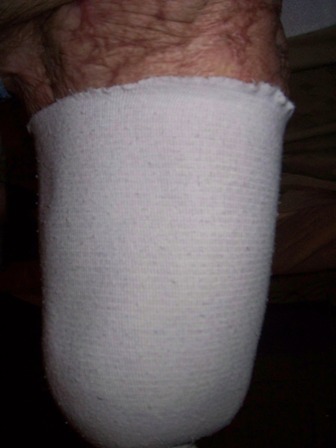 Garmet goes over the tube-a-grip.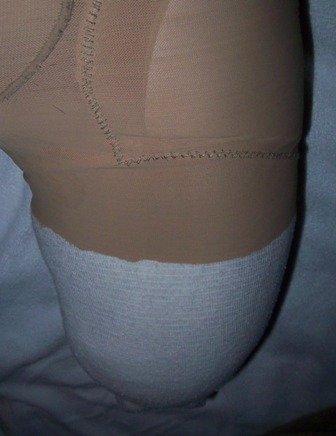 Tube-a-grip is pulled over the garmet so the garmet is locked between two layers of elastic tube. The tube can't slide down and garmet can't hike up.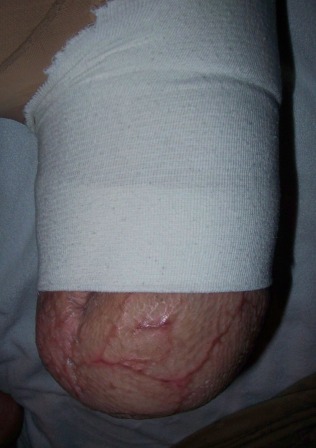 The urithane liner goes over the tube-a-grip and compression garmet. (Note the tear, it's about shot)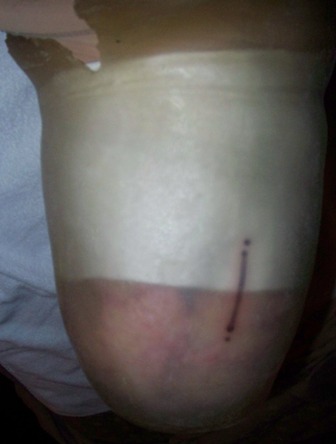 The socket slides over all the above, add britches and we are ready to start pounding the pavement.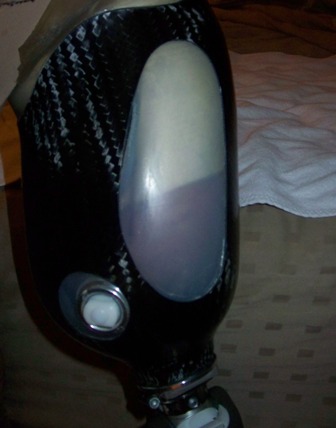 1 lap around the pond = 1908 ft (Stanley measuring wheel) = .361 miles
03-22-08 - 7 laps = 2.527 mile in 56 minutes (.933 hrs) = 2.7 mph
03-29-08 - 11 laps = 3.971 mile in 85 minutes (1.416 hrs) = 2.8 mph
04-17-08 - 14 laps = 5.054 mile in 106 minutes (1.736 hrs) = 2.9 mph
04-23-08 - 17 laps = 6.137 mile in 127 minutes (2.116 hrs) = 2.9 mph
Training goal - 8 miles in < 3 hrs (2.666 mph min.)
Comments