04 May 2008: just a "struggling rookie"
Thursday 4/24 Hanger - Tried on the new test socket. It was so tight it split (they rarely fit on the first try), but the shape looked pretty good. Paul said my stump "seems like" it is starting to stabilize. It's hard to predict because: 1) every case is unique anyway, 2) the entire stump is grafted which presents a plethora of peculiarities, 3) my progress at 4 months would be expected to take a couple years which is why my stump is changing so fast in the first place. Bottom line, it will probably take a few weeks before I get a new socket but well worth the time it takes to get it right. In all fairness to Paul, everyone who reads this blog needs to know, the new socket (that most critical mechanical interface between the body and the prosthetic) will be his hand sculpted work of art.
Monday 4/28 PT - Adductor muscles in the stump were still a little inflamed from the 6 mile walk. So we focused on core exercises.
Tuesday 4/29 - Flight thru Dallas to Oklahoma City for peer visitor training. A lot of firsts - first time on and off a shuttle bus lugging a suit case (Bonnie's wheeled suit case was the smallest thing we had with room for a pair of disassembled forearm crutches.), first time thru airport security (off to the side, fairly quick, very thorough, full body wand and pat down), first ride up and down an escalator (Dallas - I approached it cautiously but it was a lot less challenging than the cascading, sloped, telescoping ramps used to get on and off the planes). I sat next to BKA (a fellow peer visitor trainee) who has been wearing a prosthetic for 62 years. Wish I could have taped the conversation—an industrial accident amputee of 16 months gets a prosthetic device among the most advanced on the planet, meets a congenital amputee of 62 years who just recently replaced a socket system that can be found (quite literally) in a civil war catalog. The only thing our cases have in common is We're both over 60. Quite an interesting fellow.
Meg (a friend from way back) picked me up at the OK city airport then off to join husband Floyd and daughter Malory for dinner at their home. That day, they installed a storm shelter in their garage. Kansas has nothing on Oklahoma when it comes to tornados. (Had to put that in there or the pictures wouldn't make any sense.)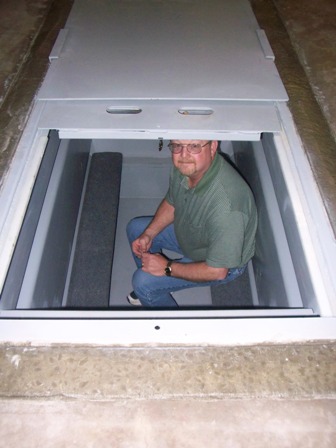 Meg, Malory, and Floyd above ground where they live sometimes.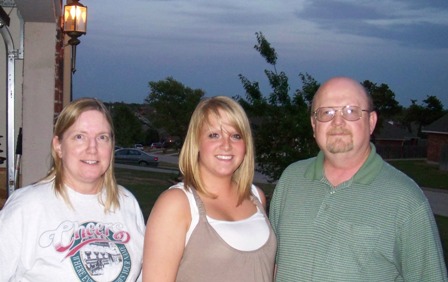 After a too brief but very enjoyable visit, Malory dropped me at the hotel on her way back to college. As she drove, she sang along with the ipod and sounded better than Patty Griffin coming thru the speakers. She's a delight—Meg and Floyd, you have done yourselves proud.
Wednesday 4/30—Amputee Empowerment Partners (AEP) training. That's the name Hanger has given its peer visitor program. There were 30 trainees, most veterans all very well adjusted and each had a litany of accomplishments that left me in awe. Personally, I have been convinced almost from the get-go, that it is not enough to merely accept amputation, so I've been trying to truly embrace it. I spent the day with 30 people who are already there. Early in the day, the group was asked, who had the benefit of a peer visit. There were less than half dozen hands and mine was not among them. I am still just a "struggling rookie" and just got my peer visit in spades.
Due to lengthy lay-overs in Dallas, I got to hang-out with Abel (a left AKA like me), about my age, has a C-leg and few more years of experience. He was part of a fund raising team that bicycled from California to Florida. Hope to adopt him as mentor. He knows a lot about some of the high endurance obstacles I'm facing (like blisters, C-leg modes,,,,) and has given advice that is already proving useful.
Comments