27 May 2008: Docks and Shore Stations
Thursday, May 1st - Prosthetists (Hanger/Montgomery)
The second test socket was a lot closer but too loose this time.
Friday, May 2nd - Overload Fitness (Columbus)
Monday, May 5th - PT (Drake Center)
Emily shares my frustration with the socket fit issues. We really can't push anything new and challenging for the moment.
I saw Dr. No (physiologist and my doctor of record) for my quarterly follow-up. He expressed a minor concern about the front interior chronic sore and my blood pressure is slightly high. He still thinks my progress is "w-a-y ahead of the most optimistic recovery expectations".
Wednesday, May 7th - Overload Fitness (Columbus)
Thursday, May 8th - Prosthetists (Hanger/Montgomery)
The test socket fit pretty well this time. Just needs a little fine tuning. Paul wants a viable test socket ready for the evaluation with Kevin Carroll on the 19th. Aware that I am becoming impatient because my socket is blocking progress on the 2nd year goals, he explained that he does not want to make the costly finished socket until after the evaluation. Kevin is Hanger's most knowledgeable lower extremity expert and is ranked among the most accomplished prosthetists in the world. Paul also loaned me a low end, dunkable, stiff knee (sea)-leg for putting in the Hess Lake docks. Why do they call a microprocessor leg that will short-out if immersed in water, a C-leg? What's with that?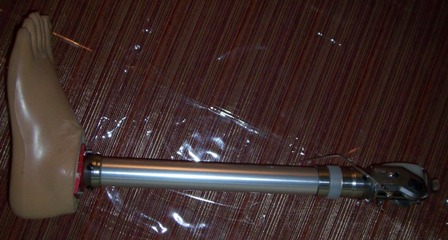 Monday, May 12th - Overload Fitness (Columbus)
Thursday, May 15th - Prosthetists (Hanger/Montgomery)
The test socket is ready pending the evaluation with Kevin Carroll. Paul re-enforced the importance of this evaluation given my very unique grafted limb, rapid volume changes, extraordinary (high profile) progress in spite of all, and extremely ambitious hiking goals. We made some adjustments on the dunkable loaner so I can walk in my waders. The stiff leg is very unforgiving (could barely move without falling before the adjustments) and makes me appreciate the C-leg's micro-processor "Cadillac ride".
Saturday, May 17th - Ruthie's baby shower
I know this has nothing to do with recovery (except for the "grandpa is my hero" outfit from Bonnie H.). We don't know the gender yet. My official guess is boy. Click the little "add comment" icon at the top of this entry and let us know your guess.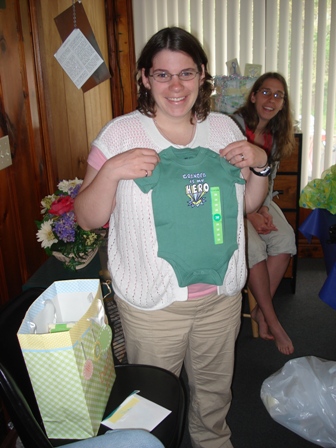 Friday, May 19th - Prosthetists (Hanger/Wellington)
Paul introduced me to Kevin in the lobby and it was obvious that the evaluation was already in progress as I stood to shake hands. He directed me to the evaluation room at the end of a long hall and insisted I lead the way. I could hear his Irish accent say, "Watch him walk, would you" and "look at the length of that gate". Once in the room, we reviewed my progress, the photos of the 5 and 6 mile train lap rigging, and my goals. I removed my socket and he did a lengthy and very thorough, hands-on examination of my stump and its musculature. He complimented Paul on the fine job he did on the test socket follow by a "but this won't work for this guy". Kevin has recommended a system that will use a tight fitting "Ossur Seal-in" liner designed for BKAs (generally shorter stumps) that has lower seal rings and padded bicycle shorts (similar to the shrink garment arrangement used on the 2.9mph, 6 mile walk). On the up side, we have an aggressive plan that might get me on the trail. On the down side, I'll have to be recast around the new suspension system. Both Paul and Kevin promised to pull all the stops to expedite the new socket.
Tuesday, May 20th - PT (Drake Center)
Again, couldn't do much with Emily so we decided to cancel future sessions until I get the new socket.
Wednesday, May 21st - Prosthetists (Hanger/Wellington)
I bought the smallest pair of bike shorts I could get into. My right leg was very tight and the left residual limb was loose. Customizing high end bike shorts for a functional fit will be expensive, time consuming, and cumbersome in the long run. I suggested we use the compression garments. They are custom made to be snug on both legs and I already own 5 pair (the oldest has the stump cap removed). Paul decided not to cast without feedback from Kevin (he was concerned about adequate padding). He made a next day appointment and told me to bring the bike shorts and the compression garment with the missing stump cap.
Thursday, May 22nd - Prosthetists (Hanger/Montgomery)
Paul and Kevin managed to get things resolved via email. We cast for the new test socket using the "seal-in" liner and compression garment.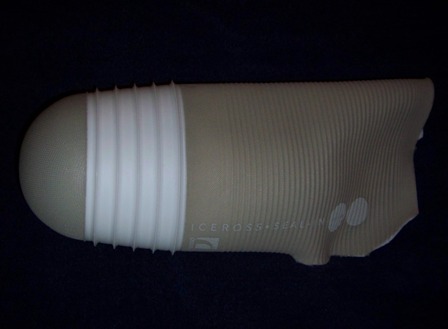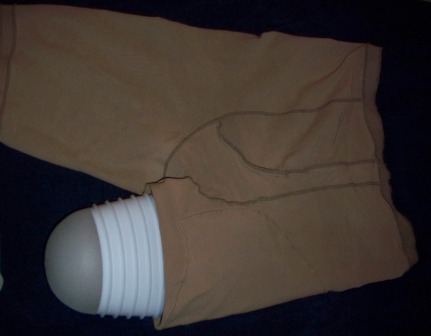 Friday, May 23nd - docks and jet ski shore station
Finally got a chance to try out the loaner peg leg (with the stiff knee and foot). The 4 section dock and jet ski shore station went in unassisted. (click "read more"for photos)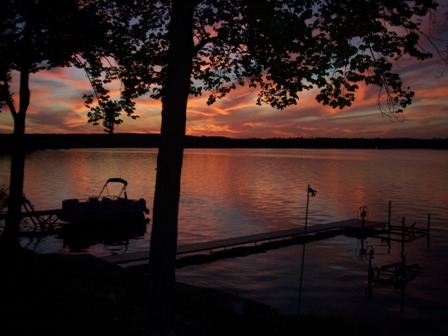 Saturday May 24nd - pontoon shore station
Got some help from friend and neighbor Jim. (click "read more"for photos
May 23rd
drop zip off pant leg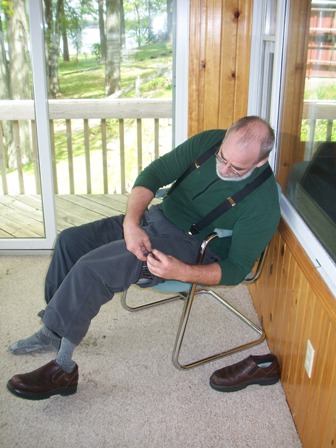 remove c-leg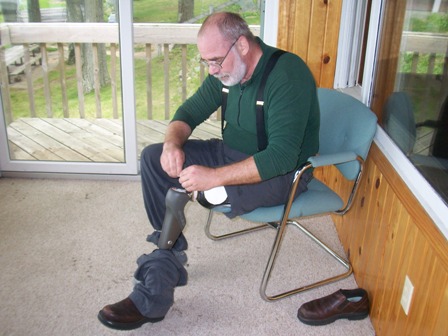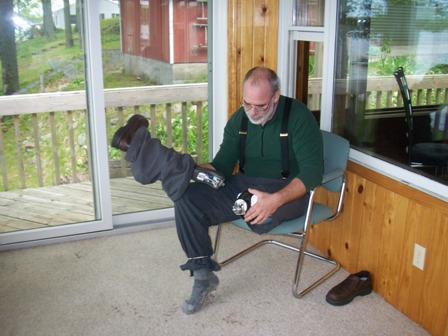 mount loaner already in waders (cable latch allows knee bend for installation - leg locks when straight)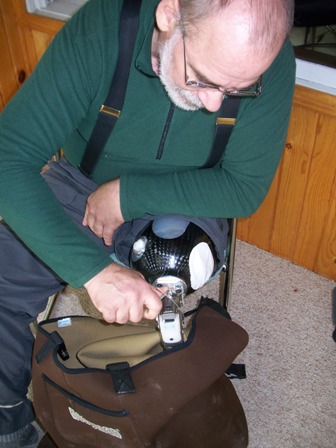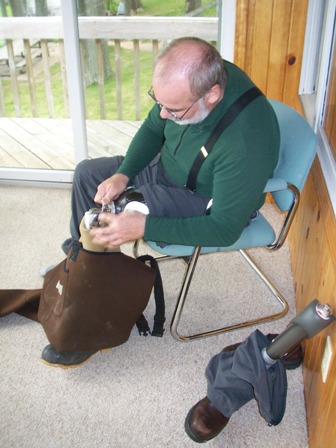 slide 1st section to water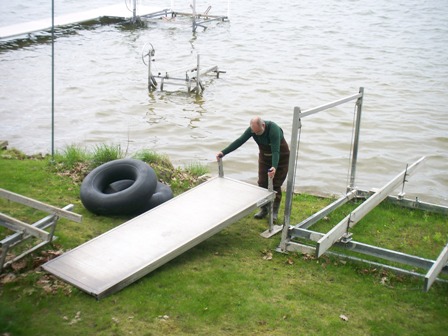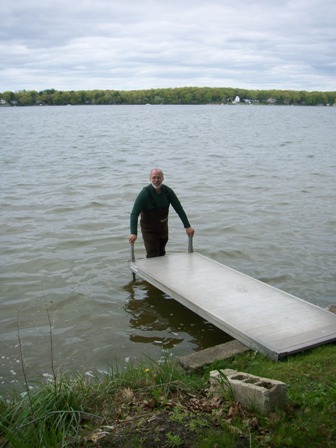 slide innertube under and float into position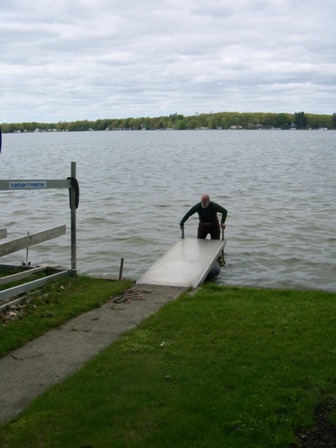 repeat 2nd section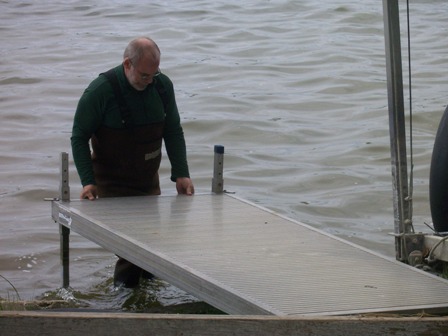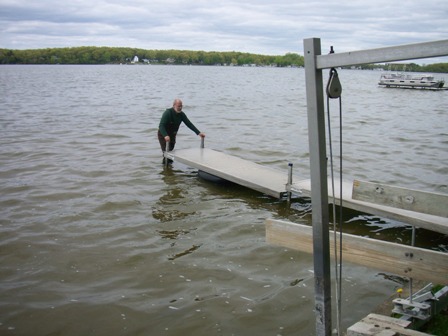 off shore breeze almost took the tube - add tether for sections 3 & 4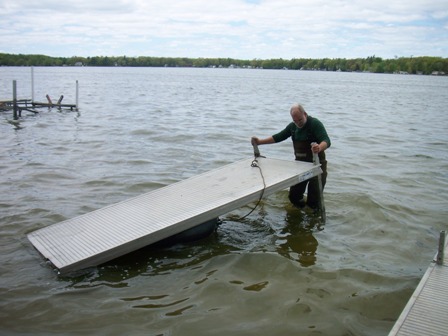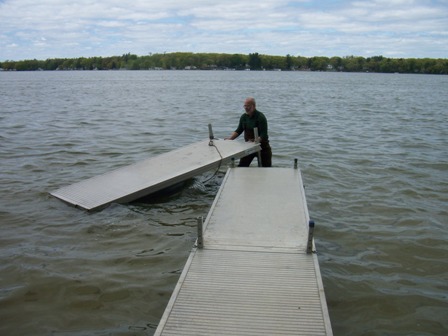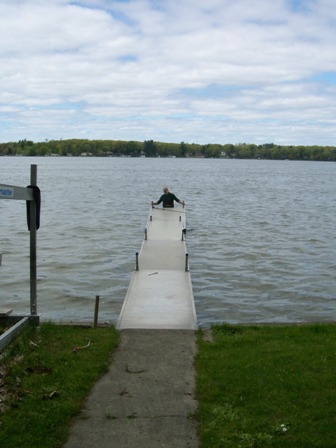 pull jet station into water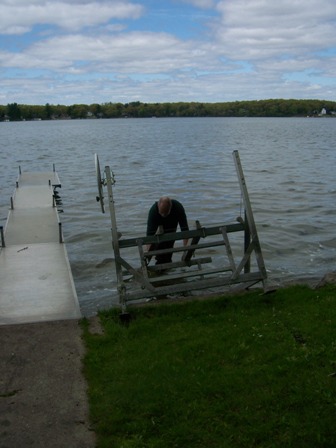 position at proper depth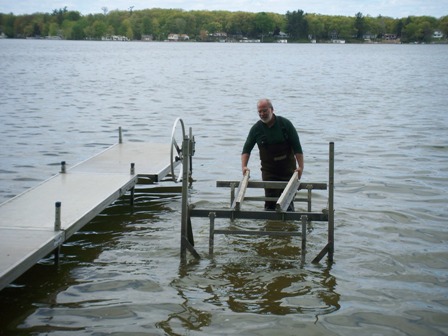 expose knee bracket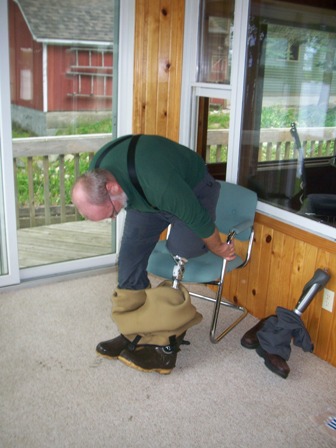 manually unlock knee, bend, and remove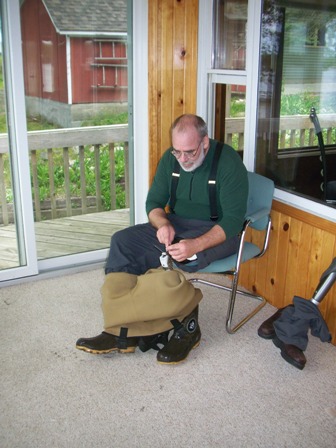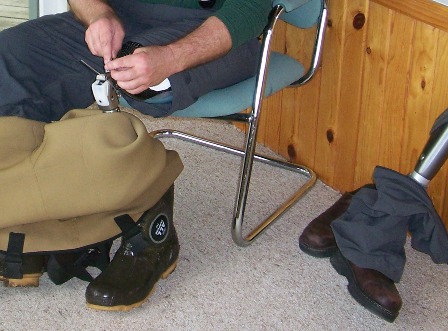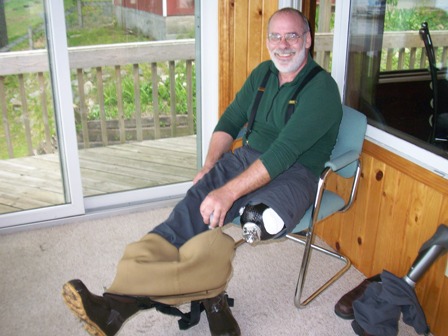 install c-leg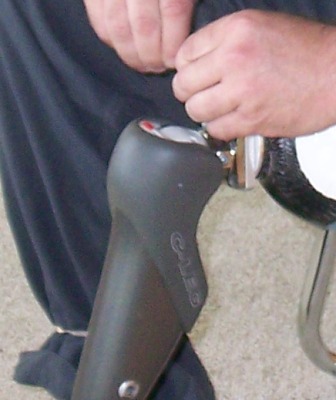 BOT-A-BING BOT-A-BOOM docks are in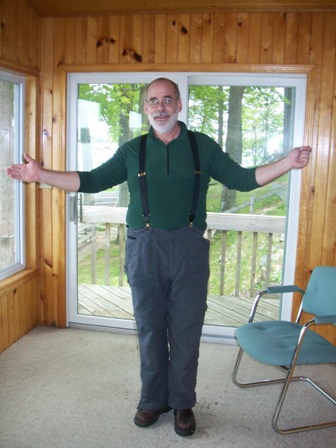 May 24th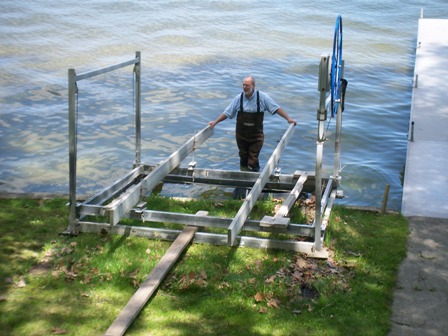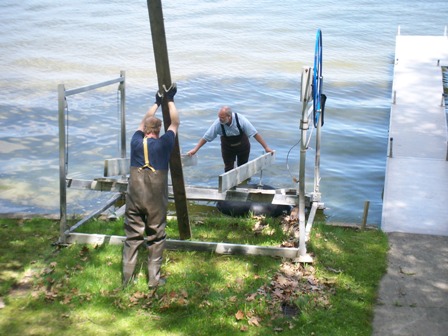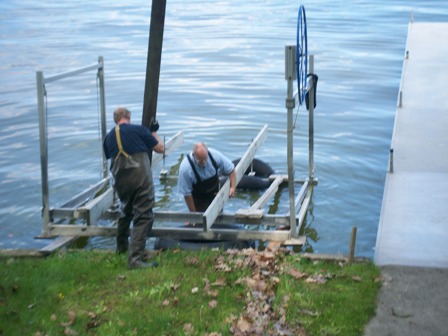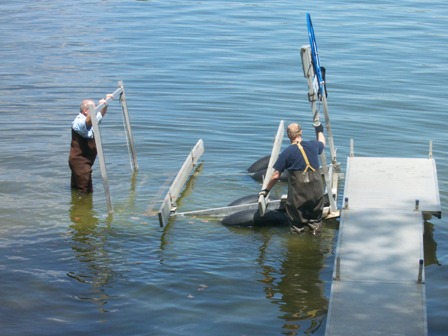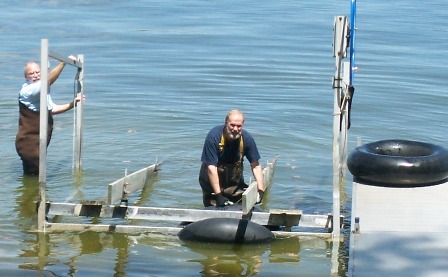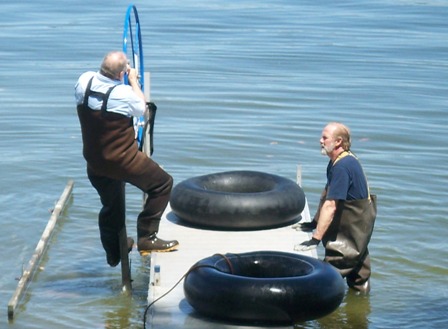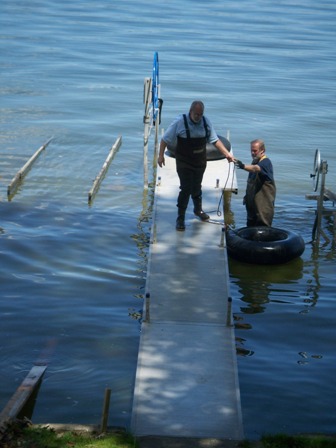 Comments