29 June 2008: Make'n progress again
Monday, May 26th - Overload
We occasionally do "shake-ups" (a change in a routine on a particular piece of exercise equipment to defeat muscle memory). On the chest press, rather than the normal 230 lb super slow reps for three minutes, Adam jacked it up to 480 lbs. After only two smooth but quick push outs with slow negatives (less than 20 seconds), I hit total fatigue. The press was reset to 380 lbs and I fatigued again half way thru the second rep. Reset again at 280, 180, 80, and then 40 with a total fatigue each time. The last three reps at 40 lbs ached more than the first two at 480. We did the same shake-up on the leg press. Started at 650 lbs and worked down to 75 lbs.
Wednesday, May 28th - Overload
This was my first workout with Skylar, Overload's new trainer. He is also the certified sports trainer for the "Columbus Crew" (pro soccer team).
Saturday, May 31st - Hanger
We tried on the new test (clear acrylic) socket. Surprisingly good fit for the first build after casting. It needed some minor profile changes and the load bearing rim was too tall to allow the end of my stump to bottom out (an important feature of this socket).
Tuesday, June 3rd—Cleveland Metro Health
Always good to see Tammy and her extraordinary wound care team. She wasn't too concerned about the chronic tear. She just shrugged and said it would heal up in a few weeks after the root cause is eliminated. She also said my graft skin was about 70% mature and for the most part, "it is what it is", so take care of it. I got measured for another and perhaps the last pair of graft skin compression garments. This pair will be designed to be worn during the day as part of my new socket suspension system.
Wednesday, June 4th - Hanger
Paul put on the test socket. This time it fit like a glove. It didn't have mounting hardware so I couldn't walk in it, but a tripod jack stand allowed me to put full weight on it. The bottom of my stump will bear significant loads (as much as 15% of my body weight) with this new socket suspension system. I didn't feel a single hot spot or pressure point but bearing weight on the end of my stump did feel very strange.
Weekend, June 7th/8th - Yard sales
Took a short overnight trip to Valley View for a reunion with some old "Fagowee" (a ski club I belonged to in my 20s) friends. While I was away, Bonnie found a 2-foot long, 4-foot tall, radio controlled replica of an America's Cup sailboat at a yard sale. It was like new and never sailed. After installing the jib/main sheet and rudder servos we launched it in the pond and it handled well - even up-wind, in close haul, with a light breeze.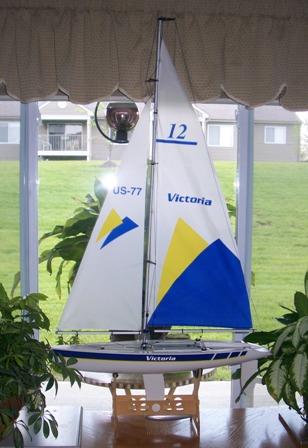 (click "read more" at the bottom of this item for more pics)
Wednesday, June 11th - Hanger
Got the new "temporary socket". The white plastic outer shell is thicker, heavier, softer and less rigid than the stronger, stiffer, black carbon fiber "comfort flex socket" that will eventually replace it. The temporary socket is easier and quicker to make (I really needed to get out of the old socket that has been tearing up my graft skin) and it is easier to modify. Walking was a bit awkward at first. The shape is so different. The top is much looser and bottom is much tighter. The old socket slipped on easy and took a lot of time and effort to get it off. This socket is a real pain to get on but slides right off when the expulsion valve is removed. Paul was not 100% happy with how it locked up but told me to walk on it for a couple of days and see how it goes.
Walked about a half mile that evening. The socket felt comfortable. The walking gate was wobbly and the angular toe clocking was very loose (about 10deg toe-in to 10deg toe-out). Used padded bicycle shorts between liner and the sock - seems to work ok but a bear to get the socket on.
Thursday, June 12th - Walked 2.2 miles.
The bike shorts that go outside the liner and inside socket, showed significant signs of wear in crotch area already. The socket felt good but the wobbly gate and sloppy clocking will need work.
Long Weekend, June 13th - 15th
Bonnie and I went to Hess Lake with friends (Gene, Bonnie P, Ray and Melissa). Did a bunch of chores and put the boats in. Wore the leg a lot but not much walking.
Monday, June 16th—Overload
Work out with Adam.
Walked 3.6 miles. Tried to improve clocking stability by stuffing a folded rag between the inner & outer socket shells to line-up with the vertical divide between the muscle groups on the rear exterior quadrant of my stump (it worked pretty well). The clocking was still a little wobbly. Used the bike shorts inside-out. The padding showed more resistance to wear against the socket than the spandex and it's a little easier to get on.
There has been an odor to my stump after being in a liner all day ever since the torn urethane liner got replaced with a silicone liner. Now with the seal-in liner, when I remove it, the odor is more pungent and there is about a tablespoon of dark liquid (looks like strong coffee with very little cream but pinkish). This liner fit tighter and generates more suction.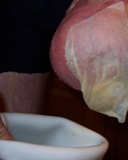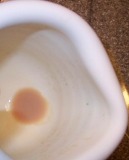 The compression garment (pants) arrived. The stump pant leg was open on the bottom but much too long to work with the seal-in liner. I contacted the lymphedema folks from Metro Health and they said things might get resolved quicker and more accurately if I contacted the manufacture (Gottfried Medical) directly. They are in Toledo and I have an appointment to visit them next week. (click "read more" at the bottom of this item for pics)
Tuesday, June 17th - Hanger
Paul kinda liked what I did with the rag. He removed, refined and replaced it with a more permanent insert. He also worked on the bow legged knee alignment. The C-leg is still just a smidge bow legged but the mounting hardware is out of adjustment. The effect was corrected with a foot adjustment.
I walked one lap around the pond when I got home. The socket felt better than ever. I even recovered a little of the pretty gate that Emily worked so hard on (still needs a little work I think).
Thursday, June 19th—Overload
20 minute workout with Skylar.
Friday, June 20th - Walked 4.34 mile (2.17 miles twice about 2 hours apart)
The socket felt really good - just a bit of hot spot in the "boney lock" pressure area (felt like a slight bruise).
Saturday, June 21st - Walked 4.34 mile (2.17 miles twice about 2 hours apart)
Again the socket felt fine but the slight bruised sensation in the "boney lock" area was a little more pronounced. Didn't feel like much of anything to worry about.
Sunday, June 22nd - Walked 4.37 miles in one shot on the bike trail.
The socket felt pretty comfortable. My speed was a little off because I was talking with #1 daughter, Erin (the founder of this blog) for about a mile. Toward the end of the walk, I felt a slight pinch where the shelf at the back of socket sees the heaviest load. Later that evening I discovered the old chronic tear up front started to bleed just a little (may have walked without the bandage too soon) and the "boney lock" socket rim bruise turned out to be a full blown blister. The blister broke and things are getting a bit messy again. This time the socket shape is not the problem. The issue now, is mostly with the foundation - the interactions with the socket, the bike shorts or compression garment, the liner, silicone putty (a Kevin Carroll idea to fill voids between my skin and the liner) and my stump. The end of my stump is looking different. I think it is adapting to the new conditions related to increased suction, liquid accumulation and end loading. I don't know quite what to make of it yet. I think I'm going to need more input from Dr. Adkins (Drake wound care team) to deal with the skin break-down (how hard to keep pushing, how to clean, care for and prevent flare-ups, etc).
Tuesday, June 24th - Gottfried Medical, Inc.
The visit and brain storming session with Ms. Gottfried was very productive. She saw first hand what I needed and how the role of the compression garment would change this time. I left with a pretty good feel for what my options are and how to proceed. I have to return the garment, with the hip and rim padding inserts shaped and anchored exactly where I want it, and her crew would stitch it up and send it back with a duplicate in about a week. (click "read more" at the bottom of this item for pics)
Wednesday, June 25th - Walked 1.3 miles around the pond.
Tried putting the bike shorts on inside right, under the liner. Seemed like the liner wanted to bunch-up under the bike shorts. When I did the 6+ miles a long time ago, I put the urethane liner over the compression garment. It seemed to work pretty well but such a sort distance—just too soon to say. Kevin, if you're following this, a little feedback would be welcomed.
Bonnie did a web search and found a company in Oregon, The Green Pepper, Inc. that sells material to people who make their own hi-tech clothing. I'll have the anti-microbial, hydrophobic fabrics to pursue several seat padding options Saturday.
Thursday, June 26th - Overload
Skylar put me on the leg retraction machine and each rep pulled the C-leg off my stump just a little. Neither of us noticed until I tried to exit with my leg dangling by my pants. We all (including Adam, Pattie and a couple of clients in the lobby) had a little chuckle over that.
Friday, June 27th - Walked 1.3 miles around the pond.
I've worn the bike shorts under the liner for several days now. Still seems to be working. We'll need to give the blister another day before attempting a longer hike.
Saturday, June 28th - Walked 2.52 miles around the pond.
Sunday, June 29th - John Bryan State Park
Bonnie and I hiked down into Clifton Gorge (lots of slippery, rocky, narrow, steep ups-and-downs). On the way to the foot bridge that crosses the river, a cool steady rain started. Instead of crossing the river to complete the more challenging "Gorge Loop Trail", we used the more direct "North Rim Trail" to get back to the car. That hike was about 2.2 miles. I did an additional 2.52 around the pond after dinner.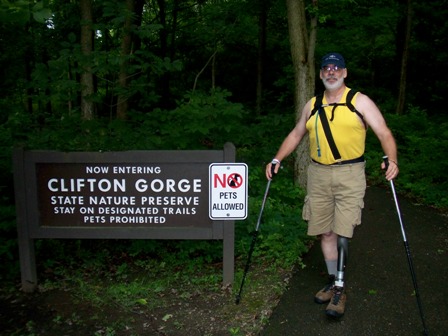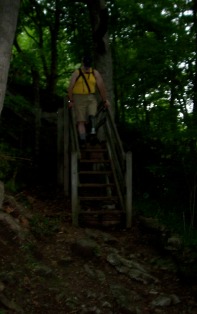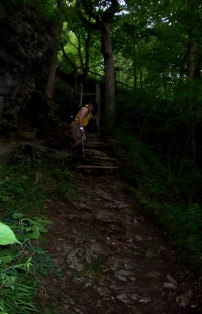 (click "read more" at the bottom of this item for more pics)
More sail boat pics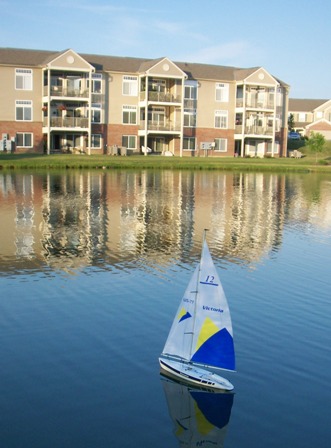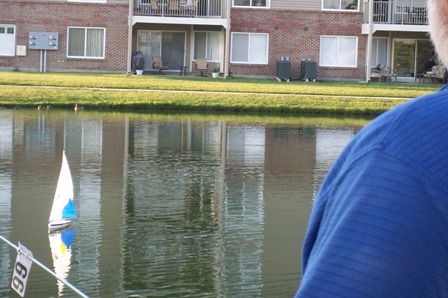 compression garment as received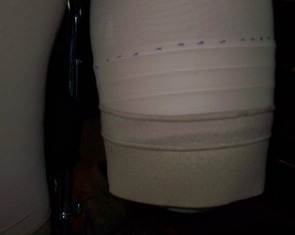 how it will look after alterations to expose seal rings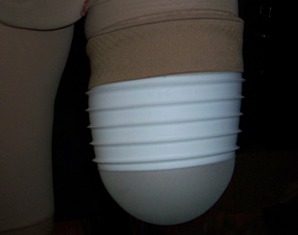 More Clifton Gorge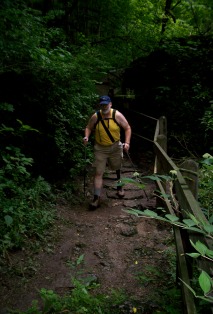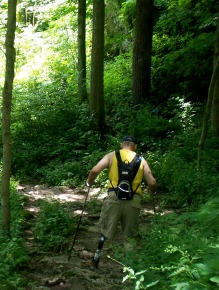 we were soaked and dressed in cotton. that's a no-no "hiking 101"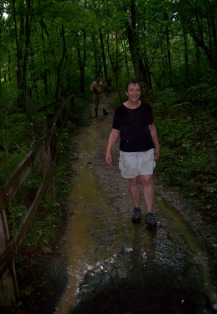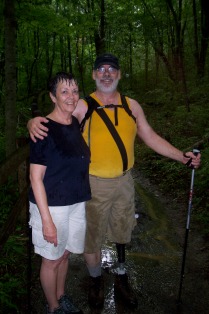 TRAINING JOURNAL:
pond outer loop (o-lap) = 1908 ft = .361 miles
pond inner loop (i-lap) = 1418 ft = .269 miles
combined loops (io-lap) = 3326 ft = .63 miles
Training goal - 8 miles in < 3 hrs (2.7 mph min.)
03-22-08 - 7 o-laps = 2.527 miles @ 2.7 mph
03-29-08 - 11 o-laps = 3.971 mile @ 2.8 mph
04-17-08 - 14 o-laps = 5.054 mile @ 2.9 mph
04-23-08 - 17 o-laps = 6.137 mile @ 2.9 mph
I had to back away from distance walking until the new socket is ready. The front interior skin tear is getting larger (football shape, almost 2"long). Just wearing the leg is enough to open and aggravate the now chronic tear. I'll have to just wear the prosthetic (to keep the stump size stable) and try to keep the walking distance to a minimum.
6-11-08 - new temporary socket, walked .63 miles
6-12-08 - 6 o-laps = 2.166 miles (didn't time it)
6-16-08 - 10 o-laps = 3.61 miles (didn't time it)
6-20-08 - 6 o-laps = 2.166 miles @ = 2.6 mph
Another 6 o-laps = 2.166 miles @ = 2.7 mph
4.332 miles total
6-21-08 - 6 o-laps = 2.166 miles @ = 2.7 mph
Another 6 o-laps = 2.166 miles @ = 3.0 mph
4.332 miles total
6-22-08 - Bike Trail = 4.37 miles @ 2.8 mph
6-27-08 - 2 io-laps = 1.26 miles (didn't time it).
6-28-08 - 4 io-laps = 2.52 miles (didn't time it).
6-29-08 - John Bryan State Park = 2.2 miles (no time it).
Then - 4 io-laps = 2.52 miles @ 2.8 mph
4.72 miles total
Comments