29 July 2008: Noel's request - another goal DONE
Monday, 7/21 - Hanger
Tried on a test socket equipped with mounting hardware this time. The vertical profile was near perfect and the depth was intentionally too deep. After pacing the casting room for a while and a few load rim refinements to create a "boney lock" (essential to the clocking stability that has eluded the current temporary socket), Paul filled the bottom of the socket with some goop that looked like tapioca pudding. I inserted my stump covered with the seal in liner until the goop solidified which created an accurate depth cast. The finished carbon fiber socket will be finished in a couple of weeks.
Paul also observed the start of some blisters at an impression line caused by the use of a silicone tubular filler. He gave me a thin urethane liner to eliminate the impression line.
7/22 thru 24 - Mississippi - "one more goal complete".
Went on another engineering trip to Grenada. Walking around the large stamping plant is always a good work-out with long days and lots of miles. And of course - the "nemesis"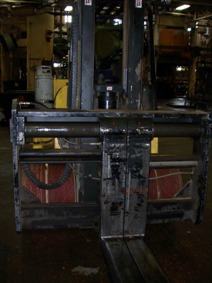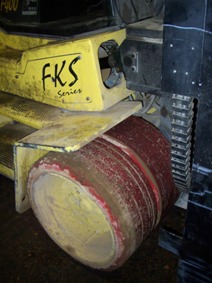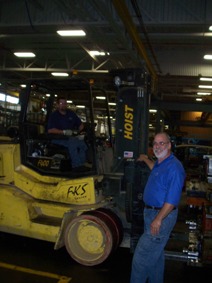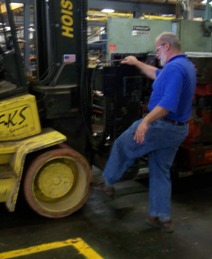 Monday, 7/28—
The blisters that started a week ago finally bloomed into a bit of a bloody mess. Gave the stump the day off.
Goals for year 2:
o Get down to 180 lbs (202 lbs 4-17).
o Attend an outdoor concert (maybe, Blossom with some old friends).
o Water skiing (thanks Jen for planting that one). That'll mean spending time at Hess this summer.
o Get a photo of me kicking the "the fork lift" (aka "tow motor" aka "nemesis"). (Noel's request). -COMPLETE-
o Take dance lessons and dance with Bonnie at the company Xmas party (left over 1st year goal but not forgotten).
o "Ready" to start an Appalachian Trail thru hike by March 12th 09.—Milestones:
o Walk 8 miles in less than 3 hours. -COMPLETE-
o John Bryant State Park - hike the river loop trail . -COMPLETE-
o Ford a river in at least 2 feet of water.
o Extend the C-leg battery range from 40 hours to 5 days. -COMPLETE- 8/2/08
o Hike with day packs from Cadillac Mountain to Sand Beach and Sand Beach to Cadillac Mountain (Acadia Nation Park) on two consecutive days (endurance test).
o Three day full pack mountain hike (probably Baxter State Park) before October 08 (equipment shake down).
Comments