21 July 2007: Bod-Pod!
It's been a while since my last up-date. No news is good news for the moment. Still waiting for word from the local physiatrist at Drake Hospital to get my case transferred from Cleveland-Metro. Joyce (Metro-PT) was on vacation last week. So, I didn't go to GiGi's last week. The Tuesday and Friday "Overload" (overloadfitness.com) sessions were at their Columbus facility. Adam (the GM and trainer) cut me no slack. He also put me through the "bod-pod" test.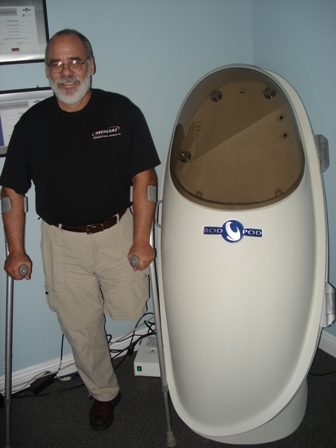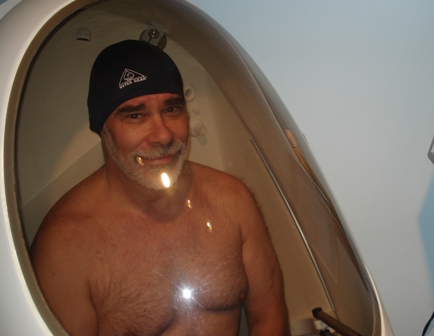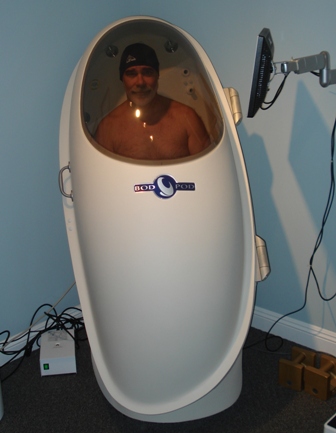 It's an egg shaped capsule, tilted back about 30 degrees, and has a door that splits it in half along the long axis for easy walk-in access. The top half of the door has a large window to minimize claustrophobia. I stripped down to swim trunks and stepped into the capsule (a little tricky with one leg). Adam closed the door and sealed it (a sensation, I imagine "hard docking" would sound and feel like). The minute long test was run twice. The sensation was similar to an MRI, but rather than sound there were medium frequency air pulses. The end result (accurate within 1%) - I "flunked". My body fat is 29.6% or 60.6 lbs (excess fat category), goal > 20% (moderately lean category), fat free mass is 70.4% or 144.4 lbs (205 lbs total). To meet 180 lbs goal, my fat free mass will go up about 5 lbs (to 150 lbs), fat mass needs to drop about 30 lbs (to 30 lbs) that will bring my body fat to 17%.
Sounds like a tall order. But I'm on it, and Bonnie is being very supportive. (She's hiding the chips!)
Comments