29 July 2007: Ready to play!
Hi Erin!

We were out for a stroll this evening around the "pond" and Mike wanted me to snap his photo for the blog. So here he is! Let me know if this comes through or if there's any problem.

Your Dad is doing great and really looking forward to getting out of the wheelchair when he gets his prosthesis. We're both anticipating Haaserpalooza and Hatteras. It won't be long for either!

See you and Chris in a couple of weeks.Take care,
Bonnie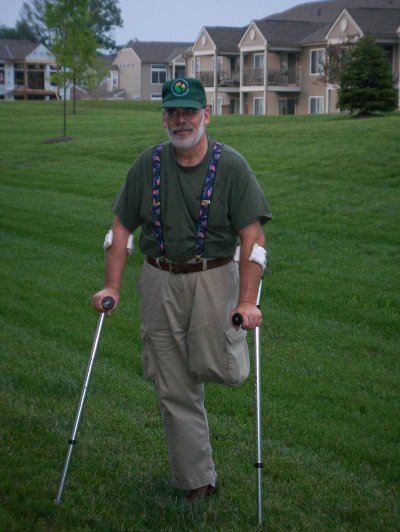 To those of you that have been following along, please note he is
on the grass
. I mentioned this, and he said that the forearm crutches are really good for uneven surfaces, and that his upper body is strong enough now that, with their help, he can haul himself up steep steps and curbs (16-18 inches). He said he went out to a restaurant the other day sans wheelchair! He just had the crutches, and was just thrilled at how well they worked.
Dad told me in a phone call last night that he's been practicing, and can play all of the outdoor hillbilly sports we Haasers have been playing for the past few years:
HillBilly Golf (or Ladder ball)
,
Corn hole
, and
Washers
. I was amazed, by the way, to find that all of these games were in wikipedia, though I have to say that our variant of washers (a box-- maybe a lipped platform?, a bucket, and a pin in the middle) is better.

Comments