02 September 2007: Carving and Crashing
I know it's long gone but Marsha told me a Haaserpalooza story that is just too cute. I had already headed for home (about 2pm Sunday Aug. 12th). A half dozen or so great grand kids (all under 6) playing in the upstairs sunroom, made pairs of mock forearm crutches and started hopping around on one leg. One of the kids, Mara I think, said, "This is hard!"
We are back from Hatteras and not too much worse for the wear. I weighed in this morning at a beer soaked 203.5 (an 8 pound gain). My back is just a little stiff from the pile driver/washing machine wave that got me while out hopping around and crashing into relatively gentle four footers.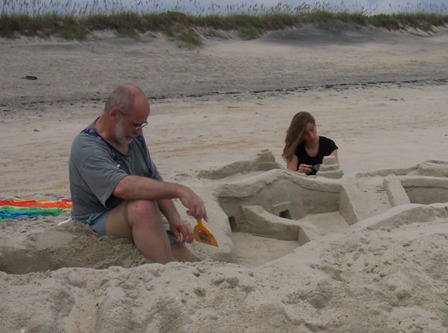 Mike and Erin carving some sand
The sand baskets on the bottom of my crutches worked great but the distance (a few thousand ft.) in the soft sand to beach kicked my butt, so I was limited to one trip each day. I'd like to thank everyone who participated in (and got blisters) shoveling the sand pile that eventually became the castle. Carving was fun and impressed the neighbors.
Bonnie and I had a wonderful time in spite of obvious limitations and look forward to doing it again next year when we are both in better shape. Thanks to all, for your much needed assistance. Special thanks to Erin for organizing things up front.
See below for more pics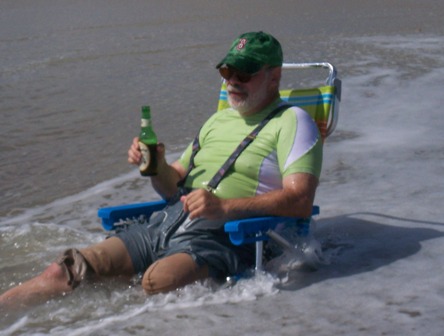 Mikey chillin' in the waves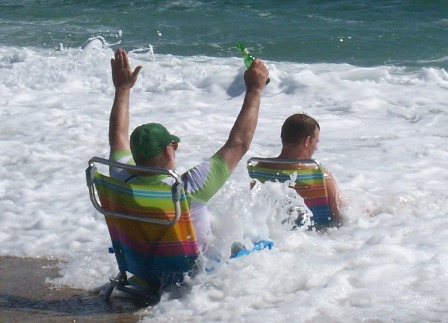 Mike and Chris on the wave roller coaster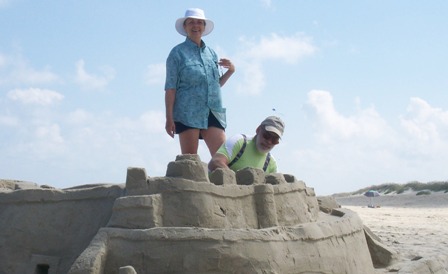 Mike and Bonnie working on the castle
Comments