27 July 2009: A Quick Year's Summary
It's been quite a long time since any entries have been made here, so I thought I'd enter a quick summary of the past year.
After Mike's Maine hike last September '08 he's been dealing with bruising and blisters that took months to heal and an ill-fitting prosthetic that does not want to stay on, not to mention hidden hair follicles (where old skin meets graft skin) that want to work their way to the skin surface. (I'll skip the details here!)
This has been a back-sliding period for Mike and I've especially missed our walks together. There have been periods when he just had to leave the prosthetic off so skin could heal and times when lengthy wear just created new skin issues. If skin issues weren't present, then slippage problems were. I'll never forget the surprised look on my sister's face when Mike couldn't quite make it back inside the house at Hess Lake and handed her the leg when it came off! (This after a midnight boat ride to view the Milky Way, running out of gas and Mike's 10 minutes of paddling the pontoon back to the dock.)
Mike is such a trooper and has always stayed positive. That engineer's brain of his is always coming up with ways to make the leg system more functional/comfortable with what he's had to work with, and his prosthetists all seem appreciative of his input ( as opposed to their more routine patients). We're excited now that Scott (Buckeye Orthopedic Design, Inc.) and his brother are working on a new system for Mike—liner, socket and possibly even a new foot! As much as we might wish it, the process just can't be hurried especially due to the uniqueness of Mike's stump and graft skin. Eventually they'll hit on the right combination of fit and materials - which in turn will eliminate many blistering/rubbing issues. Since Overload training was so far away and because of Mike's workload he had to drop it and missed it very much. So now Scott is looking for a new place with a personal trainer for Mike to workout. That should help bring his fitness level back to last year's status. Even a seemingly small thing like the body's natural arm swing is something that he has to consciously work on.
Also worth mentioning is the past year's progress remodeling the house at Hess Lake. Major repairs were done on the roof, siding, sea wall, mold abatement, some new drywall, plumbing, new carpeting, etc. It's been worth all the effort since the results are spectacular!
And one other important event to list—Mike became a grandpa for the second time when Erin and Chris welcomed little Eric to the world in January.
We're looking forward to a better and more physically active year for both of us and sweetly anticipating spending more time in Michigan and a lot more time with our family.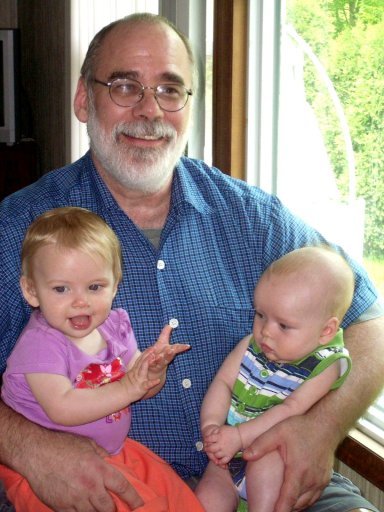 Comments