29 March 2010: Uncle Mike Meets CHHS
Almost two years later and I get a chance to write a blog about Uncle Mike. I had the honor of having Uncle Mike be a guest speaker at Cuyahoga Heights High School where I am currently substituting. The students asked some great questions and I learned many new things about Uncle Mike. I do have to admit I was a little nervous about what he might say ..... let me rephrase that, the words he might choose to say it but it
all went well
. (Defintion of all went well: no phone calls from parents) He really connected with the students, which is no surprise. He detached his leg and passed it around for all to see up close and personal. I would like to highlight some of the favorite moments for the students.
Here we go.....keep in mind these are 11th and 12th graders.
#1. Question: Can you kick your leg?
Answer: Uncle Mike demonstrated that he can kick extremely high with his leg (stump) because his hamstrings are not connected across his knee which allows his leg to go beyond parallel to the ground. Students thought it was quite a sight to see a 60 year old man kick past his waist. Then he described the action of the prosthetic as he was kicking. The leg of the prosthetic will automatically go into free swing when he moves his leg that fast and gains inertia.
This is the drumroll part.....Uncle Mike said," Therefore, if my foot came into contact with your testicles, they would end up wrapped around your tonsils. So, if you ever think about fighting an invalid, THINK TWICE."
There was laughter in the air and the questions kept on coming.
#2. Question: What attachments are there for a prosthetic leg?
Answer: a. water leg (can be submerged in water) b. Swimming leg (has a flipper for the foot) c. running leg d. He told the class about the attachment he is inventing for the prosthetic called The Crawl Ball which will allow him to kneel and crawl around. e. He started to describe his current prosthetic which is controlled by a computer. He demonstrated how the computer adjusts to the length and speed of his stride and how putting load on the toe springs it forward for the next step.
And then he said.................."It is like having three brains instead of two, one you are born with, one you get when you're 13 and one in my leg."
This one took a moment to process and laughter slowly erupted.
#3. Question: Is there anything you have tried to do and couldn't do then regretted having one leg?
Answer: (I thought I knew the answer to this one because it's Uncle Mike..he can do anything) Uncle Mike said, "Yes, I would really like to dance. I love dancing and that is one thing I tried and struggle with because the computer doesn't accomodate dance movements. It is great for walking but not for dancing."
#4. The students favorite story--familiar to some.
I'll do my best to retell the story. I will preface with the fact that AJ couldn't understand how someone could just lose a leg. It is attached to you so how do you actually lose it? Where did Uncle Mike put it? Why can't he go back and get it? It was just all too much for AJ to process. Uncle Mike got creative and showed AJ the accident with a large tinker toy wheel and a GI Joe guy. He slowly rolled the wheel up the left leg of GI Joe until it got to his knee and stopped. AJ looked at Uncle Mike and said" OH, you didn't LOSE your leg, you RUINED it." This was a classroom favorite!
I am positive I am missing some moments. Thank you Uncle Mike, you are a true inspiration to all and believe me when I say that you absolutely changed things for some of those students forever. You would be surprised what an impact you can have even when we think it is insignificant. Thank you a thousand times. It was fun and you were great...of course!
Becky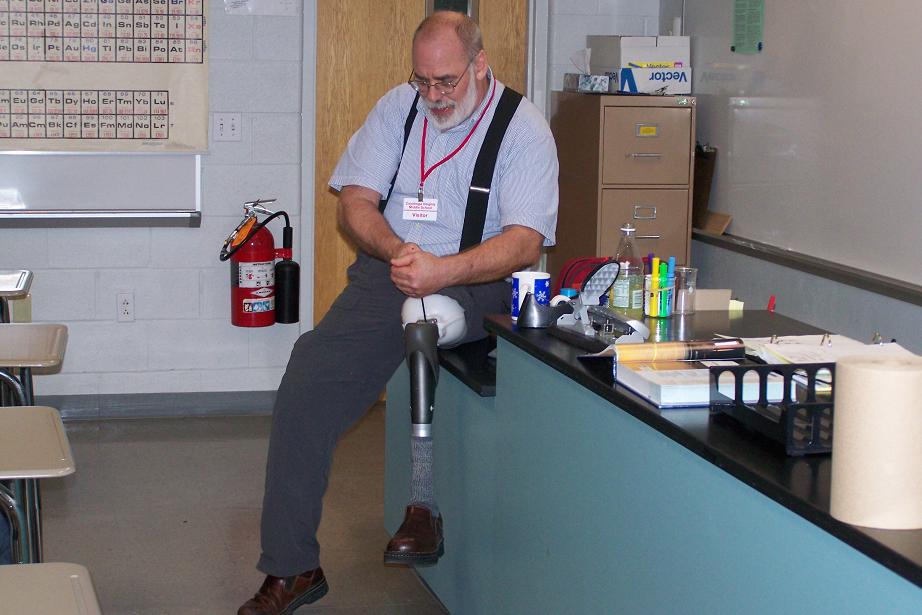 Comments